Une image vaut mille points de données : La façon dont les images peuvent répondre à nos questions relatives à l'environnement
– un publi-reportage Campbell Scientific –
Campbell Scientific partage, grâce à des caméras numériques, des applications environnementales servant à la surveillance de l'activité humaine, du comportement animal, et du changement environnemental.
---
"What caused this unexpected spike in my data?"
"My sensor is offline – did something knock it over?"
"If only I could see for myself what the current conditions are."
"I wish I had visuals to support the story the data is telling me."
Anyone monitoring their environment has thought something like this at one time or another, and wished they could obtain a visual confirmation for peace of mind. Thanks to the evolution of outdoor camera technology, now we can.
Camera technology, power management, and communications enables cameras to remotely capture images to enhance our understanding of the environment
The employment of cameras as independent monitoring devices is quickly becoming standard practice. Capturing real-time data on changes to infrastructure and the environment represents a sound, cost-effective, user-friendly asset and risk management tool. Due to technological advances in cameras, the collection of real-time data in the form of high-resolution still images and/or video (with GPS capability) is now possible. Cameras can be setup nearly anywhere and connected to a data logger and solar power supply to capture data in the form of images. Image acquisition can be triggered through various mechanisms, including internal timers, motion detection, web page control, or an external device (i.e. accelerometer, strain gauges) via a data logger, or supplied as a continuous live feed. With this array of activation, storage, and low power capabilities, cameras are suitable for just about any data-gathering situation.
Stemming from increased demand for independently operating cameras in remote locations, Campbell Scientific Canada (CSC) offers a series of rugged, outdoor field cameras that help clients capture change events in a wide variety of applications and environments.
Images and the Environment I: Bridge Crashes on the I-65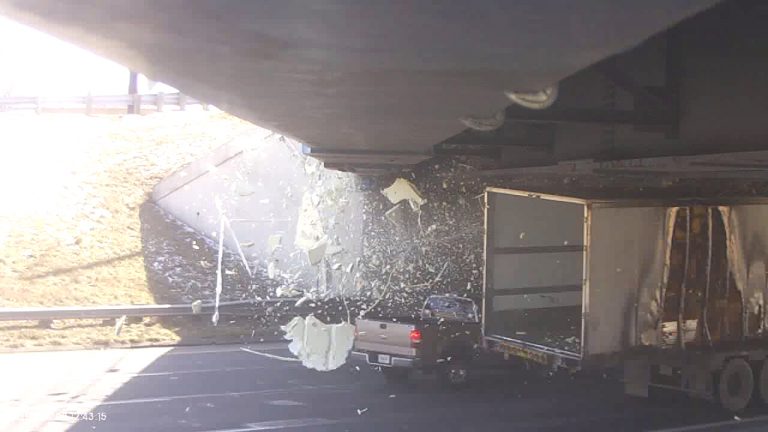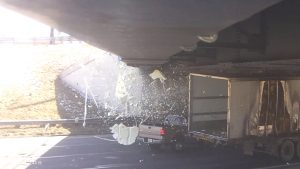 Event-triggered image capture can be used to provide decision-makers with visual confirmation of an event. When the Indiana Department of Transportation (INDOT) received an increased number of bridge impact reports on the Virginia Avenue Bridge over the I-65 near Indianapolis, they contemplated a major bridge rehabilitation to correct a reduced under-clearance. The reduced distance between the pavement overlay and underside of the bridge was the inadvertent result of a previous infrastructure project. The problem was that the proposed rehabilitation would be costly, and some doubted that the number of reported impacts were numerous enough to justify both the cost of rehabilitation and the substantial traffic interference due to construction. INDOT suspected there were more events than being reported, but what they needed was data. How many impacts? What type of impacts? How significant were they? Was this really a problem? To address this need, INDOT teamed up with an engineering group at Purdue University to develop a web-based monitoring interface. The objective was to monitor impact events at the Virginia Avenue Bridge. In order to capture still images (site metadata) and video (impact event), they used a high-resolution Campbell Scientific CC5MPX digital outdoor camera. The system operated autonomously, providing real-time notification of impact events through email and text messaging, accompanied by high definition video footage of an impact event. The results were impressive: from the images and video collected, INDOT's suspicions of under-reporting of impact events were confirmed. As a result, INDOT was able to convince stakeholders, including the public, that repair of under-clearance was indeed necessary. For INDOT and the public, images held the answers to their questions.
Images and the Environment II: Wormcam Captures Marine Environments
Images are also extremely useful for time-based studies; time lapsed videos provide interesting visualizations of changes over time often in inherently difficult places to study. One example is from Duke University where a group of researchers developed Wormcam to record events at the sediment-water interface in marine environments. Real-time images of the numerous microscopic bioturbation events at the sediment-water interface are captured in situ. These video compilations allow for robust insight into processes at the sediment-water interface, which provides an understanding into these intricate, microscopic events. These videos are used in further research initiatives and education in schools from primary to university. A plethora of interesting Wormcam videos can be viewed at http://www.youtube.com/channel/UCWVoJ-b4wsPekeM9lVSrlmg.

Images and the Environment III: Snow Line Monitoring in Rogers Pass, Alberta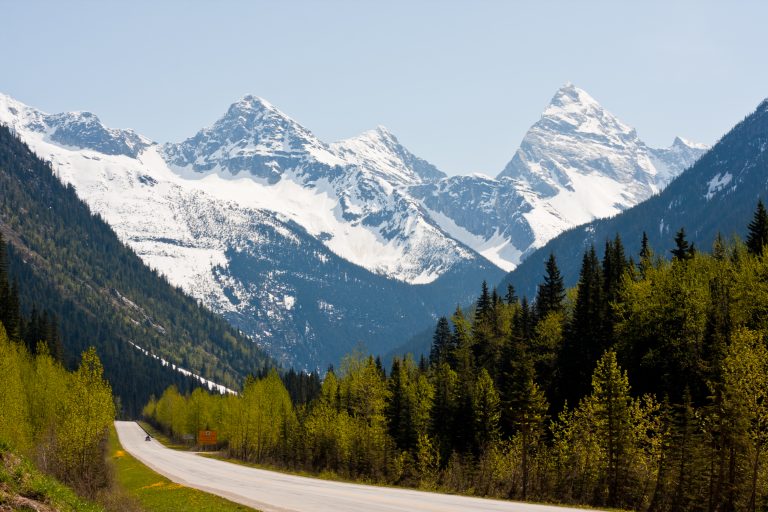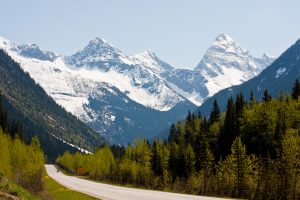 Additionally, there are various government bodies using cameras to monitor snow line altitudes and current conditions in mountain ranges and valleys that are notorious for their micro-climates. CSC recently worked with Parks Canada on one such monitoring effort. Public safety and accessibility are year-round concerns for Parks Canada operators, as avid skiers flock to Alberta's mountain ranges throughout the winter, and hikers and mountain climbers travel to the area as temperatures rise in the spring. And while springtime temperatures and clear skies may indicate favorable conditions, snow lines may still be too low on the mountains for many outdoor activities. To provide visual confirmation, an outdoor CCFC camera was installed at the west end of Glacier National Park looking east to Rogers Pass, Alberta, providing a single full view of the valley, with the ability to zoom in on mountaintops above the valley. Parks Canada is able to provide the general public with real-time views of Rogers Pass. A feed from the camera is available on the Parks Canada website, with a new image available every half hour. Now the general public can stay informed of current snow line altitudes within Rogers Pass, and use these real-time views as supplemental information to weather forecasts for the area to ensure their planned activities are safe.
Considering the versatility of cameras and the influence of the images and videos they produce, it's clear how powerful they are as asset and risk management tools, and for research. The images and video gathered can be used to inform decision-makers on impending safety issues including flooding, avalanches, and road conditions. Data in the form of images are also being gathered and studied by scientists and researchers to enhance their understanding of earthly phenomena in places that were previously inaccessible to visualization. It is the unbounded opportunity to see something that has never been seen that will continue to drive our limitless collection of image data.