Les éco-artistes reconnectent les gens avec la beauté de la nature
– Par Sarah Knight, Rédactrice du Bulletin, et Phil Chadwick, Artiste et Météorologue –
Au début de juin, l'artiste Aleta Karstad a été récompensée pour ses efforts de conservation par l'art, en tant que lauréate du prix Robert-Bateman de la Fédération canadienne de la faune (FCF). Ce prix souligne la contribution de personnes qui mettent en valeur la faune canadienne et son habitat grâce à l'expression artistique. Beaucoup d'artistes s'inspirent de la nature. Certains se passionnent tellement pour la relation qu'ils entretiennent avec le monde qui les entoure qu'ils peignent leurs scènes en plein air. Phil « le prévisionniste » Chadwick est l'un de ces artistes. Il a eu l'occasion de pratiquer son art au côté d'Aleta, lors d'une retraite d'art à la rivière Dumoine (DRAW). Avec sa « souche » météorologique, sa connexion à la terre par la vie et l'art, et sa participation à des retraites d'art de la nature, Phil pense que l'« art écologique » est une tendance qui reprend son essor. Grâce à l'art et à la créativité, les messages sur la beauté et la valeur intrinsèque de notre environnement, ainsi que sur son utilisation abusive et notre négligence à son égard, peuvent être transmis de manière à permettre une compréhension approfondie et ressentie des risques qui nous menacent si nous continuons sur notre lancée de surconsommation et d'irresponsabilité environnementale.
---
I recently had the pleasure to chat with CMOS member Phil Chadwick at the CMOS congress in Halifax. Phil is a retired meteorologist and a prolific and well-known plein air artist, whose work is very much inspired by Canada's own Group of Seven. Through his active involvement in the art community with other plein air painters, Phil is observing the power of artists to re-engage a disconnected population with the beauty of nature. The following is an article based on our recent conversations.
– Note from the Editor, Sarah Knight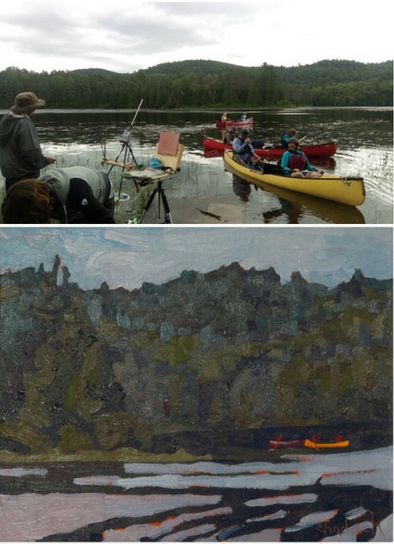 In early June, artist Aleta Karstad was recognized for her conservation efforts through art, as a recent recipient of the "Robert Bateman Award" from the Canadian Wildlife Federation (CWF). This award recognizes people who further the appreciation for Canada's wildlife and habitats through artistic expression. Aleta is the resident artist with BiotaNB – a progamme of the New Brunswick Museum, which invites biologists and artists to participate in an annual two-week-long biological survey. In addition to her 9-year residency with BiotaNB, with support from the Canadian Parks and Wilderness Society (CPAWS) she helps to organize an artist retreat to the Dumoine River in Quebec, where artists who attend donate one painting to help raise funds for nature conservation.
Many artists draw inspiration from nature, with some so passionate about connecting with the world around them that they paint scenes en plein. Canvas on easel, paintbrush in hand, they stand with their feet on the ground and the sky above their heads, surrounded by the elements, as they capture the colours, feelings, and movement within the scene around them. People who create art in this way, through intense observation and connection to the precise moment that they find themselves in, are well placed to act as voice for landscapes that are under increasing pressures from human activity.
Phil "The Forecaster" Chadwick is one such plein air artist, who has had the opportunity to create alongside Aleta at the Dumoine River Art for Wilderness (DRAW) retreat. With his meteorological roots, connection to the land through life and art, and participation in nature art retreats, Phil thinks that "EcoArt" is a trend gaining renewed momentum. Through art and creativity, messages about the inherent beauty and value of our environment, as well as our misuse and neglect of it, can be delivered in way that may allow for a deeper and more felt understanding of what is at risk if we continue along our current trajectory of over-consumption and environmental irresponsibility.
EcoArtists are not a new invention. AY Jackson and other members of the Group of Seven were responsible for creating and preserving Killarney from logging. Although Algonquin Provincial Park was formed in 1893 before Tom Thomson painted there, his art and his story have branded the park. Artists documenting the beauty of wild Canada in an effort to preserve it for future generations continues today.
Canada is on track to fail at every climate target our leaders signed on to. With a mission of preserving corridors for nature in this time of climate change, projects like DRAW and CPAWS are more important than ever as we continue to struggle as a nation to give the environment the priority attention it needs. Perhaps EcoArtists like AY Jackson, Robert Bateman, Aleta Karstad and our own Phil Chadwick can show us another way towards reconnecting with our environment, as they invite us all to pause in awe at the wonder of our natural world.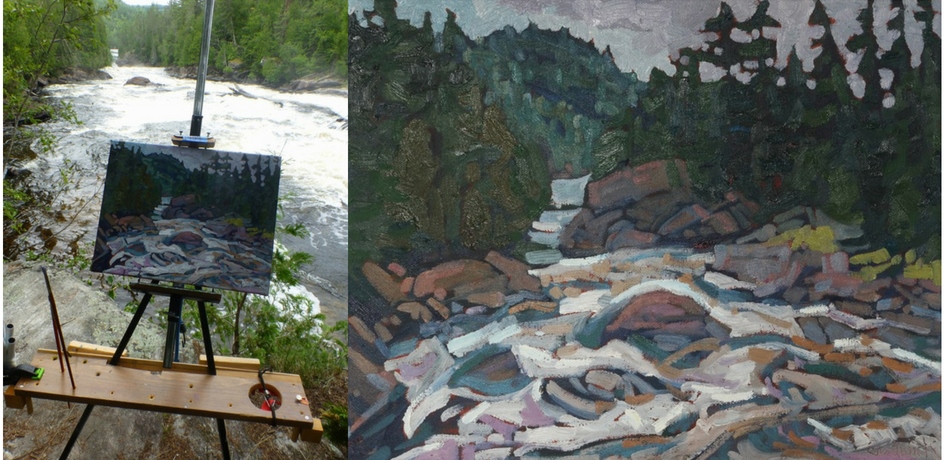 ---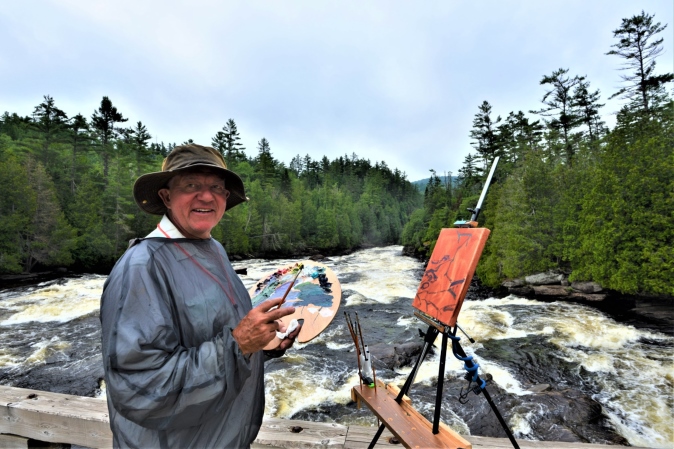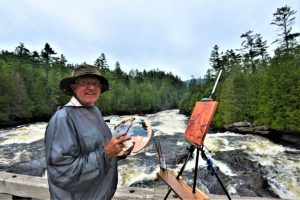 More about Phil and his work at:

1-phil-chadwick.pixels.com
philtheforecaster.blogspot.ca
philchadwickart.blogspot.ca
gallerizt.com
philtheforecaster.com/
Aleta Karstad, DRAW retreat, EcoArtiste, Phil Chadwick, plein air